One More Thing 2012
Posted 11 years, 27 weeks ago.
These are the notes I took during the talks at the One More Thing conference in 2012, including the slides which I've collected into one convenient place.
Igor Pušenjak (Lima Sky)
Apps are digital snacks
"Just one more game" appeal
Don't limit PR to just the big guys. Email everyone.
Be persistent and excited: why is your app special?
Cross promotion
Connect with players and include social media
Winter Wong (Tapatalk)
Only show "rate me" pop up to people who use a lot (50th time).
Don't show when the app crashes (reset the counter).
Turn off the rate alert remotely if there is a known bug causing crashes.
If rating is poor:

Update frequently, rolling out features and bug fixes
Rating is reset for each release

If rating is good:

Update less frequently to accumulate ratings.
More ratings = better sales

Crowd source translations (Crowdin.net)
Use DCMA Guardian to help send takedown notices if your app is being pirated.
Adam Kirk (Calvetica)
"Power" or "Simplicity", not both.
The quality of your app is your marketing.
If your app isn't getting talked about, open Xcode and make it better.
Release soon and often.
If your icon is clickable on Facebook, then it'll be tappable on the App Store.
Releasing solid frequent updates sells more apps.
Building a lot of low ranking apps does not compare to having one high-ranking app.
Charging less has never helped to sell more.
Big emphasis on PASSION
Kepa Auwae (Rocketcat Games/Hookchamp)
Review sites love niche games.
Get a forum account on GameArcade and talk about your game.
99c price point only works if your game is for a wide audience. Otherwise make it $2.99
Don't do updates. Do another game instead.
Updates only add sales with >100,000 users
Don't release a game right before Christmas, publishers rule the charts at this time.
Set all your promotions to hit in the first few days of release (Max 3)
Shaun Inman (Fever/Mint/Last Rocket)
Identify failures, correct as you go.
If you encounter a problem you can't handle, unplug (Ludum Dare).
"Failure is only failure if it's allowed to stand as the last step in the process."
Dave Howell (Air Sharing)
Trademark your name and icon.
Submit while testing & localising "What's New". Check the "Hold for Developer Release" checkbox.
Don't cheat to use private API methods, this can get your license revoked.
Don't enable behaviour after Apple's review.
Don't change behaviour based on Apples IPv4 range.
Discoverability is tied to keywords, name, icon, description, screenshots.
Influence the influencers.
PR, ads, social media.
Get featured: study featured apps and follow their example.
Adopt new iOS features, even if it doesn't make a lot of sense. This helps you get featured.
Advertise to Apple employees (this apparently didn't work).
Julian Lepinski (Pano)
The best way to motivate a designer is to do your own design.
Copy copiously (not in the bad way, though).

No settings in-app (Apple)
Communicate clearly with customers (Panic)

Talk about your app.
There still aren't a ton of great apps out there.
Talk to your users.
How Not to Die - Paul Graham
Don't stop (and don't slow down).
Raphael Schaad (Flipboard)
Design is like chess: you kill a lot of pawns before you get to the king.
It's all the small things that matter.
Don't be bitter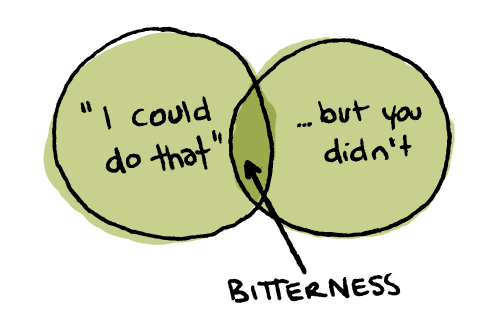 Team up.
You've gotta ship.
Ideate with everybody. Execute with a great team. Release with booze.
Matt Rix (Trainyard)
Build something to learn your tools.
When others are being featured or reviewed, just keep improving your app.
Luck - none of the factors for getting reviewed are actually random.
Be prepared to capitalise on your big moment.
Do your research on the App Store.
Delight your users.
Include easter eggs in your app (this will help with people talking about the app).
The amount of effort it takes to develop and easter egg compared to the amount of effect it could have is huge.
Determine your personal goals and write them somewhere you can see.
Work towards your goal every day.
Work on projects you enjoy, projects that excite you.
Justin Williams (Second Gear/Elements/FuckingNDA)
Do what you love (even if it means "selling out").
Q&A
"We don't care to develop for users who don't have taste" – Adam Kirk, re: Developing for Android
"If it's not a feature or a platform you'll use, then don't develop for it." – Shaun Inman
"Pubishers can accelerate success, but not cause it." – Matt Rix
The brand you've built around your app or your company is on of your most important assets.
Advertising apps doesn't work (everyone seems to agree on this).
The best advertising you can do is to try to be featured by Apple.
Other Posts in this Series
One More Thing 2012 (This Post)